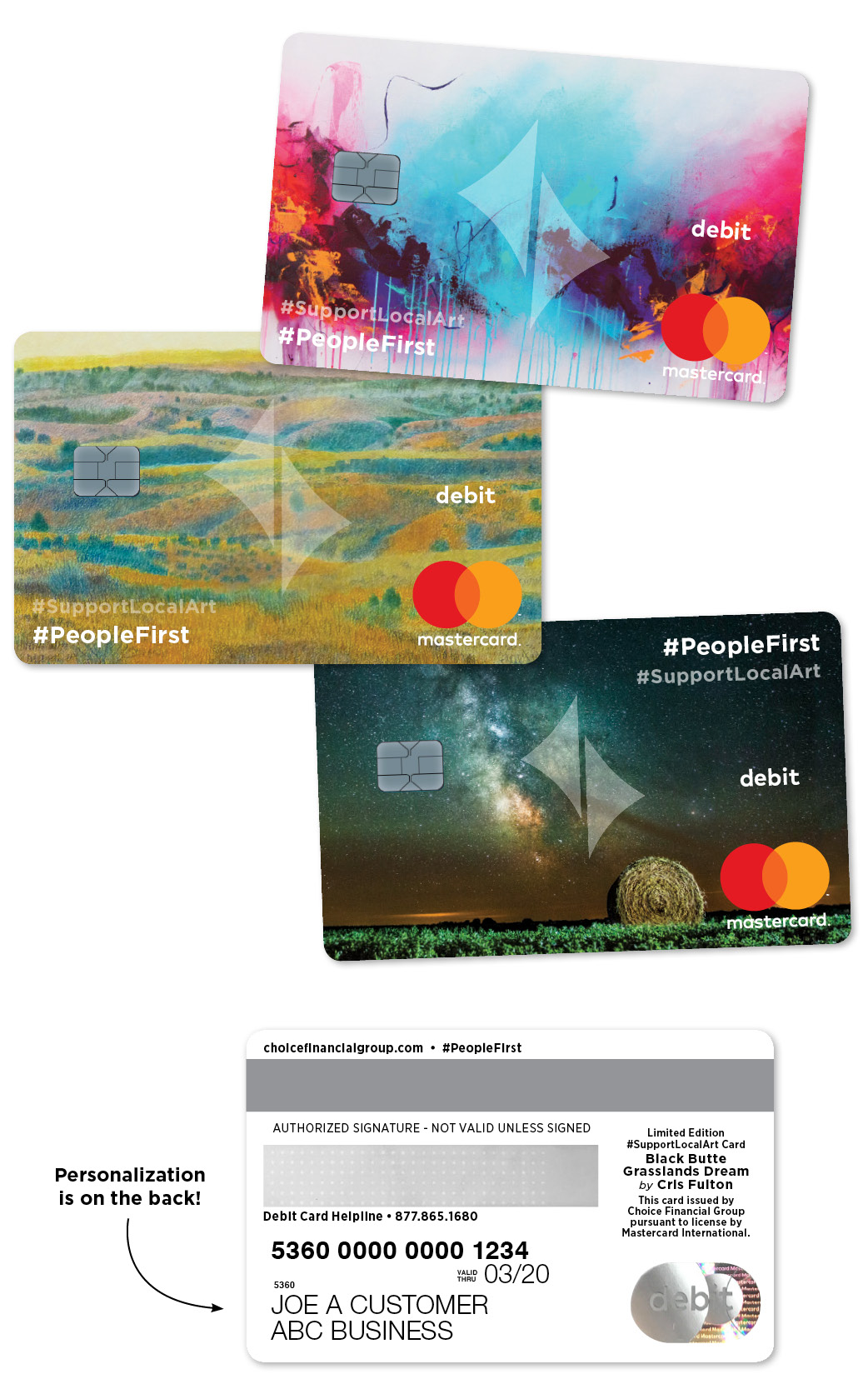 Choice is proud to support local Arts Councils in our communities through our limited-edition #SupportLocalArt Debit MasterCards.
For a suggested donation of $5, you can show your support for local art everytime you pay with your debit card.  What's even better? Choice Bank is matching every donation, up to a total of $2,500 per debit card design. 100% of donations will go to the Arts Council of your choosing.
How it works:
Select the option below that pertains to you.
Decide which #SupportLocalArt debit card you'd like.
Select the Arts Council you'd like to support.
Enter your donation amount (suggested $5).
I have a Choice checking account
To update your existing Choice Bank Debit Card to a  #SupportLocalArt Debit MasterCard, fill out the form at the link below. Be sure to have your existing debit card you wish to replace handy.
I'm new to Choice Bank
You'll first need to sign up for a Choice checking account. Click below to select a checking account and open online. While opening your account, select #SupportLocalArt Debit Card under 'Account Options.'
 

Clouds on Fire by

ASHLEY KUNZ

Ashley's use of vibrant color makes her artwork recognizable and makes her paintings come alive with energy.  She finds inspiration in nature and in everyday life; but more often than not, her ideas come to her when she's sleeping. As a self-professed dreamer, she has the advantage of being able to bring life to and preserve her dreams on canvas.  As an artist, she has the ability to transform thoughts and emotions into something extraordinary and tangible.

 

Black Butte Grasslands Dream by

CRIS FULTON

Bowman artist Cris Fulton loves the grasslands and badlands country of southwestern North Dakota, northwestern South Dakota, and southeastern Montana. She considers the magnificent prairie landscape of the Little Missouri, Powder, and Yellowstone rivers to be her own artistic backyard. She has a Bachelor of Arts degree from the University of North Dakota and has been an artist and photographer throughout her life.

 

Galaxy Field by

DAN FRANCIS

Dan Francis is a Master, Photographic Craftsman and Certified Professional Photographer based out of Fargo, ND. He studied graphic design and photography in college and after graduation, worked as a photographer and digital artist at a photography studio for six years before creating Dan Francis Photography. He has become a 2010, 2013 and 2015 PPND Photographer of the year along with being a 6X Kodak Gallery award winner.
"Art washes from the soul the dust of everyday life."
—Pablo Picasso