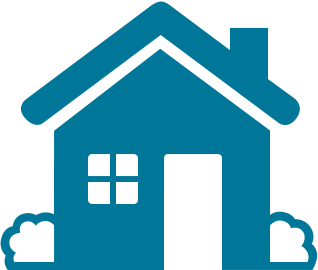 We help you do your homework.
Home Loans
.
It feels good to be home – especially after you navigate the winding road of open houses, offers, mortgages and moving.
Choice Financial offers a better way. Through our versatile home loan options, we can help you capture the pride of a new home. Let's find an option that fits you.
First Time Home Buyer: Your first home brings anticipation – and perhaps a few fears. From pre-approval through closing, we're there with programs designed for you.
Conventional, Conforming and Jumbo: Many buying or refinancing needs are met through conventional, conforming or jumbo loans. The right option depends on your loan needs, your income and credit history, and your down payment. We'll identify what's best for your situation.
FHA: If you need a lower down payment, or your credit history has a few flaws, an FHA loan may be right for you.
VA: VA loans are an attractive option if you've served (or currently serve) in the U.S. military. Your loan is backed by the Department of Veterans Affairs (VA).
Learn More
Construction: Building a home brings so many decisions. With our construction loan programs, you can focus on floor plans, cabinets and paint colors – not your financing.
Home Equity Loans and Lines of Credit: Put your home equity to work with a line of credit or loan. Buy a new car, consolidate debt or make home improvements.
Vacation Home: Found the perfect summer lake cabin? Finance it through our vacation home options.
Investment Property: If you're ready for an investment property venture, we're your financing partner. Together, we'll set you up for success.
*Certain restrictions may apply. Subject to credit approval. Institution ID #465995.
What to Expect When Buying a Home
If you know what to expect, it's much easier to find the perfect home and financing option:
What do you need to do before you begin looking?
What does it mean to be pre-qualified?
What documents and information will your home loan officer need to prepare your application?
What is mortgage underwriting?
Who do you need to notify when you move?
Fortunately, we've created the perfect guide. Check out our Home Buyer's Information Packet to follow throughout your home loan process. Combined with the guidance of your Choice home loan expert, you'll feel confident at every step.
Documents Needed Checklist            Moving Notification Checklist
Buying, building or refinancing?
Check what rate you qualify for with one of our Home Loan Experts
Celeste Burke

NMLS # 1511980

Bismarck, ND

Lindsey Matter

NMLS # 631932

Bismarck, ND

Colleen Karst

NMLS # 486231

Eagan, MN

Jake Larson

NMLS# 1247323

Fargo, ND

Amy Linstaedt

NMLS# 517032

Fargo, ND

Blair Sandy

NMLS # 635025

Fargo, ND

Brett Leschinsky

NMLS # 33461

Golden Valley, MN

Paul Canton

NMLS #686730

Grand Forks, ND

Deb Kolling

NMLS #1027681

Grand Forks, ND
Personal Loans
.
Whether you need everyday transportation, peace of mind, an improved financial situation, or you're ready for that dream fishing boat, Choice Financial offers better personal loan options.
Personal Loans
Maybe you have a stellar credit history, or perhaps you need to rely on your personal assets to secure a loan. Choice has you covered with secured and unsecured loan options. Plus, you get a preferred rate when your payment is automatically deducted from a checking account.*
Lines of Credit
Help your money work on your terms. This unsecured revolving line of credit lets you write yourself a loan whenever you need it. This convenient option is available with credit limits up to $25,000.*
Other Loan Options
Auto Loans: The keys can be yours with help from Choice. We offer great rates and options for new and used vehicles.
Vacation Loans: Relax on a tropical beach? Trek across Europe? We'll help make it happen.
Ready Reserve: Gain flexibility for unexpected financial needs, avoid overdraft fees — or even splurge a little. With a Ready Reserve, you're covered.
*Certain restrictions may apply. Subject to credit approval.
Credit Cards
.
It's always good to know your limit. Choose from a variety of card options with competitive terms that fit your spending needs.
Visa Signature ® Real Rewards Card: Watch your rewards add up fast with 1.5 points for every $1 you spend on eligible net purchases. Plus get $25 cash back1 after your first purchase.
LEARN MORE AND APPLY NOW
Premier Rewards American Express® Card: 

Earn great rewards faster with 4X reward earnings on eligible net purchases, 4X on restaurant purchases, 3X on airline purchases, 2X on gas purchases and 1X reward earnings on all other eligible net purchases, plus get $100 cash back1 after you spend $1,000 in the first 3 months—Plus a $0 introductory annual fee for the first year.
LEARN MORE AND APPLY NOW
Visa® Platinum Card: 

Save on interest with an extended introductory rate and pay down other credit card balances faster.
LEARN MORE AND APPLY NOW
Visa Signature ® College Real Rewards Card: An excellent opportunity for someone starting a credit history. Watch your rewards add up with 1.5 points for every $1 you spend on eligible net purchases. Plus get $25 value rewarded after your first purchase.
LEARN MORE AND APPLY NOW
Cash Rewards American Express® Card: 

Earn cash back1 every time you use your card: 3% on gas, 2% at supermarkets, and 1% on all other eligible net purchases, plus $25 cash back1 after your first purchase.
LEARN MORE AND APPLY NOW
Visa® Secured Card: 

Start building (or rebuilding) your credit history, even if you've been turned down for other credit cards, with flexible credit lines based on a security deposit and a low annual fee.
LEARN MORE AND APPLY NOW
Get all the details on the various options available through Elan, our credit card partner.
Learn More About All Credit Card Options About
Download the Elan Credit Card App!
Manage your credit card account wherever you are with their mobile app for Apple and Android devices.


*Certain restrictions may apply. Subject to credit approval. 
1- Reward points can be redeemed as a cash deposit to a checking or savings account or as a statement credit to your credit card account. First purchase bonus points will be applied 6 to 8 weeks after first purchase and are not awarded for balance transfers or cash advances.
2 – Late payments and going over the credit limit may damage your credit history. The creditor and issuer of these Cards is Elan Financial Services, pursuant to separate licenses from Visa U.S.A. Inc., MasterCard International Incorporated, and American Express. MasterCard is a registered trademark of MasterCard International Incorporated. American Express is a federally registered service mark of American Express.