About Us
What makes Choice Financial different is not the systems we use or the size of our buildings; it's our people. Our People First values represent the heartbeat of our organization. It is the steady drum that has and always will drive our decisions and how we treat people.
Our Choice Family put these values into practice. Browse our blog and experience story after story of who we are; stories of our team members secretly mowing their neighbor's lawns, creating surprise birthday cards, or bringing Thanksgiving dinner to a man who lives alone.
Our journey began in November of 2001 as a small group of people driven by these values. We are now 250 team members strong with assets of $1.15 billion. As a Midwest-based bank, we have strong ties with agriculture and were voted #1 Ag-lender the past three years in a row. Momentum grew, and we were recognized as one of the fastest growing banks in America, and one of the best banks to work for!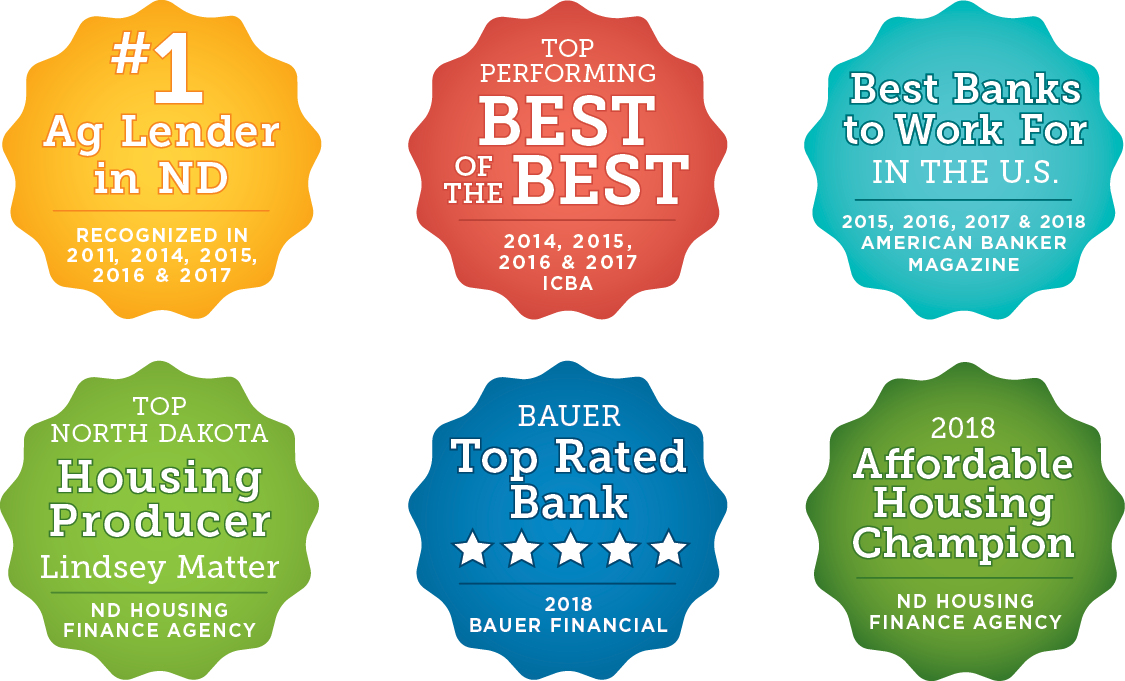 As a community bank, our attention stays local. Decisions are made in our community and for our community; whether it's helping your neighbor down the street take out a small loan to start a business, or driving to meet you on the farm with the paperwork you need.
Our People First mindset also means our Choice family dedicates much of their time to volunteering.  In one year we helped raise $176,092 for hospice care, over $40,000 for our local food banks, and donated 5,288 hours volunteering our time and talents to our communities.
We are Choice Financial. We are People First.
#1 Ag Lender in ND – American Bankers Association, aba.com;  Best of the Best – Independent Community Bankers of America, icba.org; Best Banks to Work For –  American Banker Magazine, americanbanker.com; Top Producer for First Time Homebuyer Loans (Lindsey Matter) – ND Housing Finance Agency, ndhfa.org; Bauer Top Rated – Bauer Financial, bauerfinancial.com; Affordable Housing Champion – ND Housing Finance Agency, ndhfa.org
Core Values

Our Vision
.
Your premier choice for financial solutions.
.
.
Our Core Values
Create personal and professional growth opportunities.
Better the places we live.
Respect ourselves and others.
Embrace change and encourage innovation.
Know when to ask for help and know when to offer help.
Smile, be helpful and be passionate.
Commit to our customers with undivided attention.
Keep everyone's personal and financial information confidential.
Complete our work timely and accurately.
Seek and share knowledge.
Strengthen shareholder value.
Work hard. Do the right thing. Have a little fun!
.
.
Our History
From the moment we were conceived in 2001, Choice Financial has remained true to our roots, our customers and our communities.
Choice Financial began with the merger of four local banks: Citizens State Bank Grafton-Petersburg (with locations in Grafton and Petersburg), First Capital Bank of North Dakota (with locations in West Fargo and Goodrich), and First State Bank Langdon and Walhalla State Bank. Each local bank was known for its strong community banking culture. Collectively, our assets totaled $170 million at the time.
In 2004, we expanded to Grand Forks.  Investing in this new community was our first priority and in 2008, we provided specialized funding to for the Grand Forks Park District in their development of the region's premier wellness center, Choice Health & Fitness.
In 2005, we welcomed Peoples State Bank in Comfrey, MN, with $13 million in assets, marking our entrance into Minnesota.
Expanding into North Dakota's largest city, we opened a location in south Fargo in 2006. Coupled with our location in West Fargo, we continue to enhance our presence in this area.
In 2014, Great Plains National Bank joined Choice Financial with locations in Dickinson, Belfield, South Heart, LaMoure and Ellendale and assets of $210 million. This allowed us to expand our footprint into new areas, blazing a trail we would follow into western North Dakota.
We continued our path of growth in 2014 by opening a location in Bismarck, and expanding our insurance team in Fargo and Dickinson. The Bismarck opening took less than 90 days, which allowed us to make a significant impact in our capital's vibrant and growing city. The expansion of our insurance services built upon our commercial and business insurance expertise.
In 2015, we further enhanced both our traditional and non-traditional financial services with the acquisition of Northland Financial and Fremling & Associates, and a partnership with Great Plains Financial Group.
Northland Financial enabled us to further expand our presence in Bismarck as well as locations in Steele and Medina. With this connection between east and west locations along the I-94 corridor, Choice was positioned as the sixth largest community banking organization (by asset size) in North Dakota.
Fremling & Associates is a Fargo-based financial services company that has been serving the region since 1996. We now have the ability to additionally serve businesses throughout the Midwest in designing comprehensive employee benefit plans. Their expertise in this area, coupled with our Health Savings Account (HSA) product, provides our partner businesses the opportunity to offer their employees competitive benefit plans.
Great Plains Financial Group, now Choice Financial Wealth Management, has been advising clients since 2002 by providing a full suite of financial management services including estate planning, financial planning, retirement planning, life insurance and much more. With more than fifteen wealth managers and a presence in nearly all our locations, Choice Wealth supports the needs of clients and businesses across our entire footprint and beyond.
In 2017, Choice Financial Wealth Management continued to strengthen our coverage in western North Dakota by partnering with Gilchrist & Fettig. Based in Bismarck and Beulah, Gilchrist & Fettig have a strong history of providing financial products and services to individuals and businesses throughout the region.
In 2018, our path of growth led us into the Minneapolis, Minnesota area through a partnership with Venture Bank. With four locations in Bloomington, Eagan, Golden Valley, and Roseville, this partnership allowed us to provide our #PeopleFirst service to a new and exciting market as well as expand our resources in our existing markets. While we have grown and changed throughout the years, one thing remains the same – our commitment to our local communities and the people and businesses we serve.
Our proud history displays Choice Financial's forward-thinking, proven record of stability and reliability. Guided by our People First approach—we're proud that our roots are local, decisions are local and our leadership is local. Whether you are saving for your children's education, buying your first home or providing your employees with amazing benefits, we want to be part of the most significant moments in your life.
LeRoy Adams

West Fargo President

Lisa Artz

Exec. Dir. of Corp. Relations

Bruce Baer

SVP - Belfield Manager

Paul Bakkum

Chief Risk Officer

Samantha Berg

Director of Employee Dev. & Recruiting

Mike Bindas

Director of Wealth Management

Todd Borchardt

Langdon President

Mike Boub

Chief Strategy Officer

Gerald Brossart

Fargo President

Pat Chaput

Walhalla President

Coralee Demers

VP - Operations

Deb Eiseman

Bismarck President

Cheryl Feltman

Culture Dev. Specialist & Event Coordinator

Tara Field

VP - Compliance

Tony Gudajtes

Grafton President

Tim Heilman

Chief Information Officer

Gerald Horner

VP - Medina Manager

Brian L Johnson

Chief Executive Officer

Brian P Johnson

Chief Operating Officer

Chris Johnson

Grand Forks President

Sharon Karsky

SVP - Frontline Operations

Tim Karsky

Managing Dir. of Business Dev.

Chuck Klabo

Insurance Manager

Jeff Kram

Chief Financial Officer

Jeff Petersen

Ellendale President

Mark Sand

Steele President

Greg Schwab

SVP - Lending Operations

Brent Thielges

LaMoure President

George Wald

Dickinson President

Brent Zavalney

Dir. of Facilities & Related Services