Choice Financial is Your Bank
It's time to make those financial decisions you've put off. To sort through your banking options. To bring greater convenience and peace of mind to your life. To plan for a brighter future.
Choice Financial offers a better way. We deliver the hometown service you expect, backed by services you might think only the big banks can offer.
We offer personal banking, business banking, agribusiness services and health savings accounts. You'll find us in 15 communities across North Dakota and southern Minnesota.
Midwestern Values
Our region values integrity, common-sense decisions and the strength of our communities. Choice Financial shares your beliefs. When our customers and communities thrive, we all grow together.
Independently Owned
Local ownership. Swift decision making. Investment in our communities. Employees who are in it together. It all adds up to authentic community banking.
Insurance. Investments. Pizza?
We are excited about some new additions to our Choice Financial family!  Great Plains Financial Group has joined our investments team and Fremling and Associates has joined our insurance team.  Read more to find out what that means for you.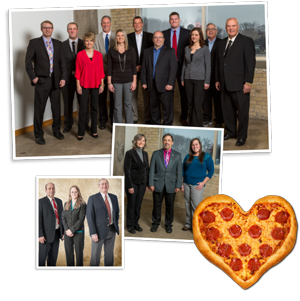 Refer a Friend

You made a good Choice; we'll help you share it with others. When your friend opens a personal checking account, we'll reward you both with $50.

Mobile Banking

On the go? With our mobile banking options, your Choice Financial accounts are always within reach. We'll help get you back to work or fun.

Download Choice App for iPhone
Download Choice App for Android

Home Mortgages

We'll support your search for the perfect fixer-upper, more space for your growing family, or your retirement property. With a mortgage that fits, you'll feel the pride of a new home.

Apply for a Choice Home Mortgage
Learn About Choice Loan Products
26,000+ Fee-Free ATMs

Over  26,000 surcharge-free  ATMs nationwide with the MoneyPass network. Plus—we'll refund your first two non-MoneyPass ATMs fees per statement cycle.

Online Banking

Pay anyone for anything, manage your bills, transfer funds, set-up alerts, and track your savings 24/7.

Health Savings Accounts

You've heard the buzz about health savings accounts. Do they make sense for you or your business? We'll review the options.
We're here to help you feel more confident about your finances—and your life. You won't encounter any slick presentations or high-pressure tactics. Instead, we'll help plan your financial future, answer your questions and earn your trust.
Committed to Community
For us, community involvement is a part of who we are, as individuals and as an organization.
We encourage our team members to share random acts of kindness. When the local food bank needs volunteers, we step up. When local nonprofits need financial support, our team members and customers pitch in. To help save our local theaters, we organize fundraisers.
Learn what's happening in your community by following us on Facebook.
Choice Health & Fitness

We are the proud naming sponsor of Choice Health & Fitness, a wellness facility in Grand Forks that brings greater health and happiness to the region.
 
Visit Choice Health & Fitness

Junior Bank Board

Today's high school students are tomorrow's business leaders. Our Junior Bank Board program helps students learn about our businesses, communities and economy. Contact us to learn more.

Kindness is a Choice Program

We believe Kindness is a Choice and one kind act can lead to another. Our team members are empowered to share random acts of kindness to better our communities through our Kindness is a Choice Program.
Choice Careers – Join the Team!
It takes great talent – and great people – to serve our Choice customers. And our growth opportunities, culture and benefits are top-notch. Others have noticed: In Grand Forks and Fargo, we've been honored as a best place to work for young professionals.
View our current openings, check out our employee benefits and apply online.